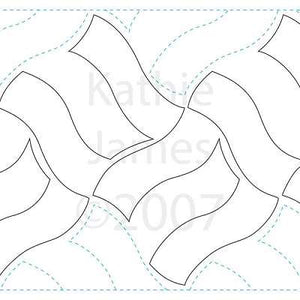 Classic Weave.
Per square inch quilting charge : Regular price $0.02 Sale
Copyright 2007 Kathy James, by Willow Leaf Studio
Pantograph Design

If you wish to mail us your quilt top, backing and batting:  Measure your quilt top.  Fill in the length and width in inches. This design will be chosen for check out.
Your beautiful finished Quilt will be sent home to you for FREE!
There is a $45.00 minimum charge

or
If you can drop off your quilt top, backing and batting at The Quilt Shop Monson, Ma., and pick it up when finished.

The charge at Lacire is 2 cents per square inch, and you pay when it's completed: 
The Quilt Shop
130 Main St.
Monson, Ma. 01057
413-893-9175
Any questions ?
contact:
linda@stitchintimequiltingservice.com